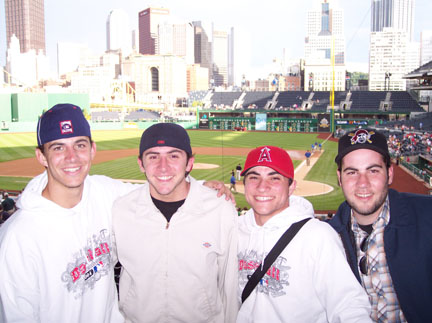 Tucker Coston, Mike Abraham, Jeff Abraham, Jason Abraham (Left to Right)
Three brothers and their friend (Mike Abraham, Jason Abraham, Jeff Abraham, and Tucker Coston) from Orange County, California are taking a road trip this summer stopping at all 30 baseball stadiums in 48 days. These boys all have one thing in common, an extreme passion for the game of baseball.
The Abraham brothers' love of the game is a long family tradition. For the past ten years, they traveled with their father on summer vacations, always taking the time to experience a ball game at a nearby stadium. Their father has one of the largest collections of baseball paraphernalia on this earth. In addition, the brothers help run SCSA (the family screen printing business) that is largely devoted to printing baseball uniforms and local team shirts.
Recently, the boys decided to take matters into their own hands. They worked for months planning a 7 week trip stopping at every Major League Baseball stadium in North America. The journey begins May 26th in Cleveland and ends July 8th in San Diego. They borrowed their fathers car and plastered team logos stickers all over, included a map that tracks their trip, and created a website to document the adventure.
Through this site you will be able to follow along as if you were in the car with them including photos and written updates of what they have experienced.